Bowle Buster 300K Report
Story and photo by Carey Chappelle
May 20, 2006
The Huron Chapter hosted the Bowle Buster 300, Saturday, May 20/2006. Last year this ride was known as the Scenic Cave 300, but all those riders knew what the Bowle Mountain did at the 194km stage...and begged me to rename in honour of that tough section. The maximum altitude was 24% about half way up the hill, then reduced, slowing to 9-18% for the rest of the ride to the top. Nobody forgets that climb!
We had 10 riders scheduled to start the Bowle Buster 300 at 0600hrs on Saturday morning...But, Bill Little wakes up at 05:45 jumped on his bike and noticed the flat tire that needed to be repaired and showed up at Tim Horton's 1min to 6am in his car, asked me for a route sheet, Control Card and promised he would try to catch up. The rest of the riders were geared to go, when...Christian Belair appeard beside us in his automobile, asking for a Control Card and a map so that he too could join the gang ASAP.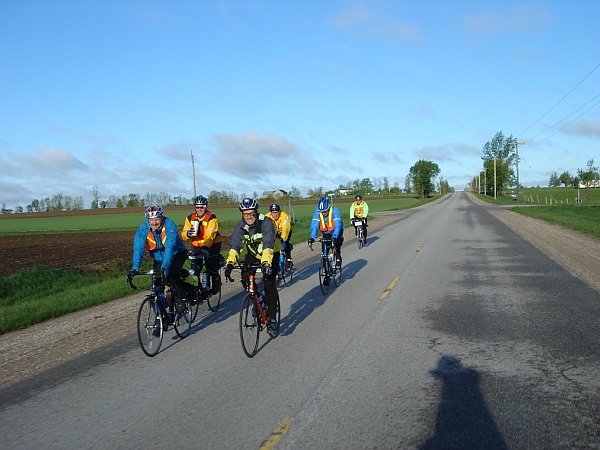 Cold but sunny
The second Control was in Hanover and lo and behold, Christian caught up, saying he never saw Bill along the way. Just as we prepared to head on...Bill Little rolled in, and finally, the group was back together. Having had 8 days of continuous rain, it was unbelievable to see the sunshine finally taking over. Even with the sun, the temperature remained low, but riding at a good pace kept everyone comfortable. Again, we stopped in Owen Sound to visit the famous Falls for a few minutes, take a few pictures, then continued on to the Leaky Canoe in Meaford for a fantastic lunch and another signature on the Control Card.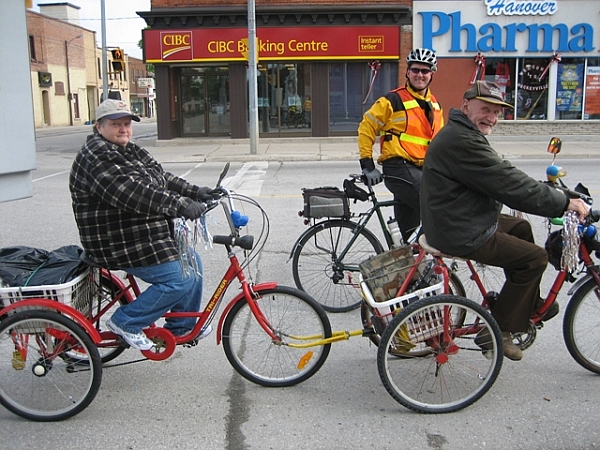 New randonneurs
Leaving Meaford, I hung in the back of the group, riding comfortably, knowing what was ahead. The Bowle Mountain. For new riders, the downhill was long and just gorgeous!!! Once arriving along the bottom, the ride takes a right turn and there it is...one huge..steep hill to climb... The Bowle Mountain! Fortunately, everyone made it to the top with some energy left for the remaining 100km.
Having finished the Bowle Mountain, the remaining hills were almost a compliment to all the riders. Pedalling into Dornoch was just gorgeous, the wind disappeared and the sun lit up the beautiful dirt roads leading to the Dornoch General Store. A few pounds of great ice cream were taken in and then the group left for the final section to Port Elgin.
Overall, the weather was unbelievable..Sunshine, tail wind, cool temperatures.....FANTASTIC!! The riders loved their day and can't wait for the next one!