Great Scenery, Good Climbing
Story and photo by Phil Piltch
With contributions from Scott Chisholm
September 22, 2002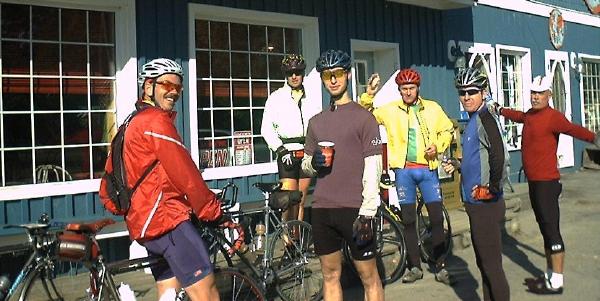 At the Rosseau control. From left to right: Marc Pritchard, Scott Chisholm, Oliver Moore, Norbert Kraft, Michael Thompson, and Alan Thwaits. (Isabelle Sheardown and Keith McEwen were some distance behind.)
photo by Phil Piltch
This year's edition of the "Falling Leaves" 200 was well attended and very enjoyable.
Although it rained quite fiercely on Friday, the weather became quite pleasant the next day, starting off a bit cloudy and cold, but sunny and pleasant for the rest of the day. Most of those doing the ride arrived on Friday, and we were treated to a fine repast of food and drink by Ric and Sandy Brown, who hosted the ride. Norbert Kraft was very kind to transport Oliver Moore and me with him to the Brown's, even though he did not have access to his van (we became quite creative stuffing 3 bikes in his wife's station wagon). The Pritchards arrived much later, and we did not see them until breakfast. Michael Thompson also showed up early Saturday.
After a breakfast that included pancakes cooked up for us by Scott Chisholm, the nine of us doing the ride ( Scott, Norbert, Oliver, Michael, Marc Pritchard, Alan Thwaits, Keith McEwen, Isabelle Sheardown, and myself) set off in the cool cloudy morning, about 10 minutes after the 7 am start. The pace started out somewhat easy, but soon picked up a few kilometres out.
The group of nine became a slower group of two (Keith and Isabelle) and the rest of us, a much faster group. We soon arrived at the town of Sprucedale and our first turn down Stistead Rd. The road changed names and meandered quite a bit after Ilfracombe, and it was here that we began to encounter some steepish climbs. Somewhere before the turn on Muskoka CR 3 we saw a house with two septic service trucks, with the logo "A Royal Flush Beats A Full House" and we all chuckled. I turned back to take a picture of them and then worked to catch up with the group. Alan and Norbert eased their pace, and after what seemed to take several kilometres, I caught up to them near Aspdin. By this point the clouds were starting to thin and the sun broke through. With the exception of one hill, we saw very little autumn colour.
We arrived at the control in Rosseau to find the rest of the group and got our cards signed, and had some coffee and cookies and washroom breaks. After a short break, we continued south on Hwy 632 to the next control near Port Carling. There was a nice downhill from Hwy 141 in Rosseau and this seemed to set the pace once again to a brisk one. It was at this point that we hit some of the more severe hills on the route and I soon found myself struggling to catch the lead group ( Oliver, Norbert, Michael, Marc, and Scott). I noted Alan was well back from me, and as I struggled to catch the group, on a large hill, found I was concentrating on keeping the pace of the lead group, but missing all the great scenery around me. At that point I decided to ease up and enjoy the surroundings. Alan and I then rode together to the next control, and at one point I stopped to enjoy the view of a lake from one of the bridges the road crossed - it was a typical Muskoka scene of a lake with an island, a cottage and boat house.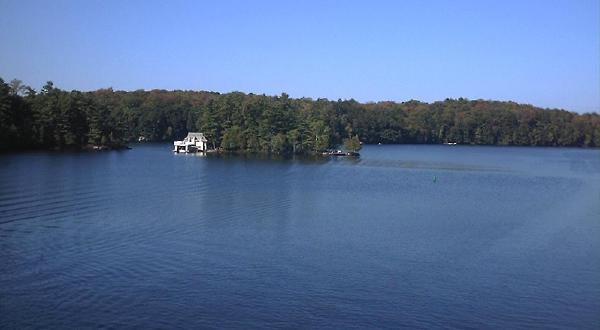 A lovely view of Lake Joseph and some magnificent Canadian Shield scenery. The building on the island is only a boathouse - the main buildings of this "cottage" are hidden among the trees.
photo by Phil Piltch
At the control we quickly got our cards signed and continued through the town of Port Carling, crossing two lift bridges, the first which was a narrow one lane affair. I stopped quickly after the second bridge to take a picture and then caught up to Alan. Just after the town we turned north on Muskoka 25, past Brackenrig, following the shores of Lake Rosseau. Once again we hit some rather steepish climbs, but none that were overly long. The scenery was nevertheless lovely, and at one point the road went past a granite rock face opposite the lake. At a Y-junction I mistakenly took the left branch, but Alan noted the mistake and we doubled back and took the correct one north on CR 24. Yet more rollers before we reached the turn at Hwy 141. At about that point my support pager went off and at the town of Ullswater, I stopped at a payphone to call in to work while Alan picked up some water at the convenience store. We carried on towards Rosseau, and climbed yet more big rollers, including a rather long one just outside of town. I received yet another page and called in at Rosseau but found I had to call back 10 minutes later. Alan patiently waited outside the Country Style while I used the washroom and bought a juice, but the service was overly slow and he carried on, expecting that I would soon catch him after a few hills. I called back to work, only to find the crisis was averted and all was now well. By this point Alan was well ahead and I never did catch him. The terrain was again rolling but the scenery not as interesting. Hwy 141 was somewhat busier than the other roads we had taken so I was happy when I reached the turn at Tally Ho/Swords Rd. I stopped at the town of Orrville for a quick break, buying a bag for prezels and a ginger ale.
Rick and Marcella showed up a short time later, asking how I was doing and reporting that Alan was about 6 km ahead, and the rest about 30 km away from the end. He asked if I had seen Isabelle, but I had not (he was hoping she would not do the loop around Lake Rosseau but she evidently had). With just over 40 km to go, I tried to pick up my pace a bit, although my legs were somewhat tired. But interesting sights caught my eye and I stopped briefly to take a picture of a marsh filled with ghostly trees, and again in the town of Bear Lake to capture a white-washed high-steepled small church. I finally rolled in to the Brown's at about 4:23pm. I then took a shower and took some time to check out the lake front nearby.
We had wonderful weather, which started out somewhat chilly but became a cool but comfortable 15C with lots of sun, and for the most part not much wind. My altimeter recorded 2,222 metres of climb, about 7,290 ft, although I personally did not find the climbing seemed that excessive. Nearly all the roads were quiet, and most of the drivers courteous. All in all a beautiful ride.
Alan Thwaits (left) and Norbert Kraft (right) climbing one of the many hills on this brevet (on Muskoka CR 3, about
60K out from the start). Phil Piltch measured the climbing on this edition of the Falling Leaves 200K at 7,290 feet.
photo by Phil Piltch
Many thanks go to Ric and Sandy, who were wonderful hosts, providing us space to sleep and a hearty feast after the ride.
---
A Homecoming... Of Sorts
by Scott Chisholm
The Falling Leaves brevet has always been a ride I have wanted to do. My family has had a vacation home in the Muskokas since I was just a kid.
Once I confirmed with Ric Brown that I wanted to do the ride this year, he e-mailed me a route sheet. I soon learned the route was to take us many places I had only seen looking from the water inward.
Upon arriving at the Brown residence about 10:00 on Friday night, I was met in the driveway by Oliver, Norbert, Phil, and of course Ric. Once inside the Brown's beautiful home I was met by Isabelle and Sandy, Ric's wife. Isabelle informed me that Keith and Alan had gone to bed already. I then learned that the Pritchards would be rolling in around 1:30 am Saturday and that Mike Thompson would arrive for the start.
It took about 10 minutes and Oliver, Norbert and Phil were chowing down on pasta and steak.
I guess it was about 11:30 when the rest of us decided to bed down. Rick informed me I would be sharing a room with Alan that had twin beds in it. Ok sounds good to me. After tossing and turning for about a half hour I decided insomnia had set in. I went down to my truck, got a magazine and my little flashlight. I read for a while by flashlight and finally got to sleep at 4:20 am and then Rick, as per my request, came and awoke me at 5:00 am. Alan had awoke already. Rick asked if Scott was awake and Alan replied " I don't know, I do know he just got to sleep". I quickly informed Alan that it is not a good idea to share a room with me. He said he had heard that but apparently forgot. I am sure he won't soon forget again.
I got up, and made everyone back bacon and pancakes like I had promised I would the evening before. It appeared that they must of thought I was joking because some appeared surprised. I think Alan referred to me as Martha Stewart or something to that affect.
We finally got rolling at 7:15 Saturday. What a fabulous route tight, tree-covered winding roads, beautiful waterfront scenery, and great rock cuts to ride through.
Alan Thwaits and his Zunow, on Hwy 141, near Ullswater, in Muskoka country. This photograph illustrates nicely
some of the joys that riders experienced on this brevet - great scenery, good roads, and a minimum of traffic.
photo by Phil Piltch
This route reminded me so much of riding in Paris because of the similarities of the route - that being if you ain't going up you aregoing down. At about the 170 km mark Ric and Marcella Pritchard met up with us in Rick's truck. He was looking for Isabelle and he offered up some home-made chocolate chip cookies and bananas which we were glad to accept. Rick then started to inquire about the route we all commented on the climbing he said he did not know the vertical feet and I quickly offered it is F**ng high.
Mark, Mike, and Oliver got back to Rick's around 3:10 pm. I rolled in around 5 minutes later and Norbert around 5 minutes later again. Alan and Phil got in about an hour later and Isabelle got in around 7:05 well done Isabelle you are an inspiration to us all.
The Browns put on a great spread for us all unfortunately Allan had to pack up and get home.
It was great to see and ride with some club members I have not seen for a while most notably Mike Thompson I have not seen him since 1997 and it has been 3 years since I have seen the Browns and the Pritchards.
After dinner the corks in the wine bottles started to pop quite frequently and as you can well imagine it did not take long for the stories to be exchanged some were a little hard to believe but nonetheless it was a great evening.
Great hospitality, great company, great fun, and a fabulous ride.
---