Hilly 400 report
Story and photos by Carey Chappelle
July 10, 2004
Only two riders made it out to the Hilly Hellacious 400, Pat Little and Carey Chappelle. Congratulations to Pat on completing his first 400 km brevet and who now only needs a 600 to complete his first Brevet series.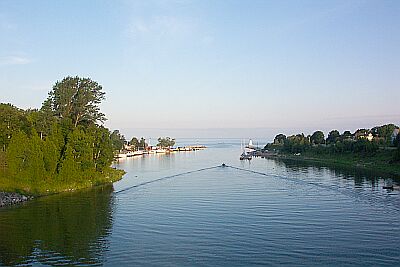 View out over Southampton harbour
The riders left Port Elgin at 0600 hrs sharp under clear skies and the promise of a full days worth of sunshine. Heading north along the Lake Huron shoreline, the riders passed through the towns of Southampton, Sauble Beach, Wiarton and Owen Sound before heading inland towards Lake Eugenia. The first control was to be the Big Bay General Store but since it was closed, the riders stopped some locals carrying fresh baked goods to an art exhibit and had them sign their cards in a trade for purchasing some of their home made oatmeal cookies.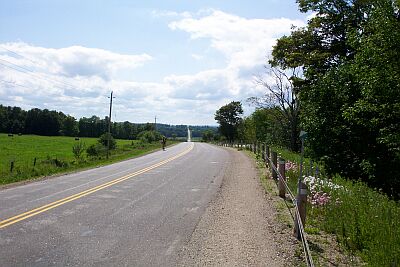 The Kolapore Highlands
Eugenia was the 2nd control of the day, and after a tough climb out of the Beaver Valley, the riders enjoyed fresh slices of pizza at the Top of the Rock General Store. Heading east then north around Lake Eugenia towards the Kolapore highlands provided some excellent scenery and a wild descent into Collingwood before sending the riders on the "Creemore loop". Of course, a trip to Creemore wouldn't be complete without a quick stop at the Mill Pub for some of Creemores finest refreshments. The view of the lower Pretty River Valley on the return route to Collingwood was breathtaking. Pat can vouch for that as he had trouble staying out of the gravel while taking in the vistas.
The last control before heading back to Port Elgin was the Village at Blue, Pat had never been there before and was blown away by the resort created by Intrawest. The riders spent the better part of an hour enjoying the live music and people watching before attempting the Scenic Cave hill which reaches grades of 18% and climbs for 3 km. It didn' t help that both riders had stocked up at the grocery store on water, cheese, kilbosa, crackers and fruit for the under serviced ride back to Port Elgin. Nothing like a little extra weight for the climb!
Anyone who has ridden at night can attest to the magic and serenity it provides. The home stretch did not disappoint, a brilliant meteor shower, billions of stars, the milky way..... a picnic lunch at 0145 hrs in the morning, all seemed surreal. Memory makers.
Although we took 22 hrs to finish this 400, 5 hrs were spent "smelling the roses" and isn't that what this is all about?