March to the Marsh 600 Report
Story and photo by Carey Chappelle
August 14, 2004
The Huron Chapter held its final brevet of the season, the M&M 600. Those of you who have done the Huron Shores 600 pretty much know the route and know how much climbing there is - at least 16000 ft. To quote Scott Chisholm, "It's the toughest 600 we have!"
Five riders started and five finished. Pat Little, Fred W. and Ken Jobba all achieved their Super Randonneur status on this 600...Congratulations guys!! Well done. Scott Chisholm also completed the brevet....30 days after riding in the Huron Shores 600 - but true to his word, he completed a Huron Chapter ride. I can't thank Scott enough for his assistance in making this brevet a success.
Fred, Ken and Scott all came up to my place Friday night where we talked about the route, the amount of climbing, the weather and generally got to know one another. I'd ridden with Scott on earlier brevets (at least for a few minutes at the start) but had never met Fred or Ken.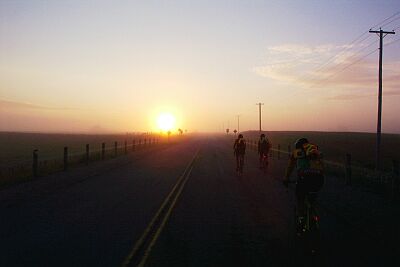 When we left Port Elgin on Saturday morning, the temperature was 8 deg C. The fog was thick in the valleys and made things that much cooler. I was cold even with my arm warmers and jacket on, yet there was Scott wearing a sleeveless cycling jersey and shorts. Maybe that's why he keeps such a fast pace, to keep warm. It took a few hours, but eventually the sun burned off the fog and things warmed up, much to my liking, matter of fact, things really warmed up once the climbing started.
Scott mentioned that most of the climbing was between Port Elgin and Alliston and this worked in our favour as we got the toughest part of the ride over early. Fred, Ken, Scott and myself stayed together as a group for the whole brevet, regrouping after each climb. Pat rode "sweep" and earned the nickname Ghost rider. The four of us would take turns pulling and reach the controls ahead of Pat. On one occasion I mentioned that Pat had better not lolley gag, as he would miss the closing time and no sooner had I got the words out of my mouth, there he was. And history repeated itself, over and over, there he was.
Between Reddickville and Lisle, we had a strange encounter of the friendly kind. A car passes us going the other way, slows down, does a U-turn and races to catch up to us. As I unlocked the trigger on my pepper spray, the car slows beside us and it's...........Oliver Moore and his longtime girlfriend Katrina (hope I got the spelling right). We chatted for a few minutes and then continued on our separate ways. It was the first time I'd seen Oliver since Paris and I felt like was reacquainting with a long lost friend.
Our group reached Scott's house in Tottenham around 21:30 Saturday night. minus Pat. Scott fed and watered us, we watched some Olympic Action until midnight and wondered where Pat might be. The phone rang, it was Pat, he mumbled a few things, mentioned that he was starting to hallucinate and that the route sheet was written in a foreign language. At his point Pat was only 12 km away and only need reassurance that yes he was on the right road. Keep in mind that this was his first real experience reading a route sheet with no one else around to offer support. The simple tasks aren't so simple when your sleep deprived and exhausted. Pat arrived a few minutes later, aided by Scotts rear LED light hanging on the sign in front of his house. Scott then cooked another meal and we all bedded down for a 6 am start the next day.
Leaving at 6 am meant we had 3hrs 48 min. to travel 85 km. Not a lot of time should there be a head wind or mechanical problems. We all stayed together going about the business of reaching the control before closing. Ken had mentioned his concern that we didn't leave ourselves a lot of time and that he had DNF'd an earlier brevet because he didn't think about the intermediate control times being met and ran out of time. We reached Nottawa with 23 minutes to spare and enjoyed a fabulous breakfast at a small cafe. Thanks to Fred who generously paid the bill for the group.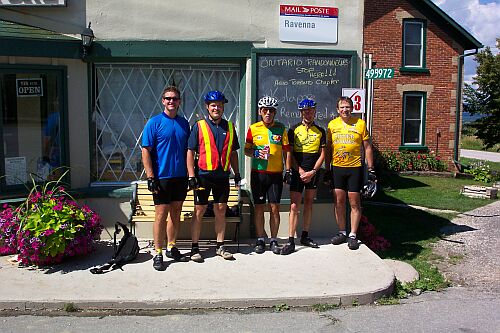 The route from Nottawa to Ravenna is TOUGH. Although we managed to bank some time, everyone was starting to feel the pain and the climbing just seemed to never end. In Wiarton, the four of us were refueling for a non stop run to Port Elgin when....you guessed it, Pat shows up. We had a good laugh and accused him of having a superman cape before parting for the last time.
Following the ride, we all enjoyed a post ride meal put on by my wife Donna, who's twice baked potatoes are to die for (yes, I'm bragging) and steaks cooked to perfection by the one and only Bill Little (the guy who wears outrageous cycling clothes just for reaction).
Sadly, this was the year's final ride for the Huron Chapter, but what a year it was. Our first full series now complete. And I know next year a few more Super Randonneurs will be born!